Navigating the birth of twins, triplets, and more can be exciting yet daunting, joyful yet overwhelming.
Whether configuring space at home for the new additions or creating feeding and sleeping strategies, every new parent of multiples faces a steep learning curve that could benefit from an experienced helping hand. This is why the Center for Early Relationship Support (CERS) has developed Parent Consultations that address the unique needs of parents of multiples. They are provided by CERS parent consultants who are also mothers of multiples. The consultations, which are all followed by a brief written summary and outline of a plan, are available at three critical junctures to help you anticipate, manage, and enjoy your new family.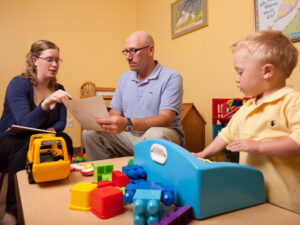 Planning
A meeting to strategize the first month of homecoming – what kinds of supports and structures are helpful and available.
Adapting
A meeting within the first six weeks of your babies' homecoming to address the realities of having multiples. Particular attention will be given to exploring who each individual baby is, and the specific supports he or she needs.
Launching
A meeting four to six months after homecoming to think about what your family needs to grow and thrive.
Parents are welcome to choose any or all of these services, depending on their concerns and interests. Packages are available for the complete series.
Hourly pricing is available for telephone, in-office, and at-home consultations.

For more information, call 781-647-JFCS (5327) or email your questions via our contact us page.
Questions?
Get Support Now
Contact intake to find out how we can support the early relationships in your life.
Home visits support
Visiting Moms
Lauren & Mark Rubin Visiting Moms® program matches experienced moms with new parents for support and connection during their baby's first year.